NMS Solar specializes in solar energy and has been a pioneer in the Indian rooftop solar industry ever since their founding in 2011. NMS solar has committed to democratizing solar power, identifying that energy access is one of the great challenges of this century for India.
NMS Solar has hands on experience as a System Integrator. Their EPC team is well experienced in designing, manufacturing and supplying solar projects and services. NMS's service portfolio includes not only design and commissioning but also ongoing operations support and life cycle Operations & Maintenance (O&M).
Rooftop solar power projects by NMS Solar
NMS Solar EPC team executes many kW scale rooftop projects at different locations in parallel. This project execution is at the heart of NMS's operations. NMS project team had been using a physical dashboard (a whiteboard in the middle of the office) to track and monitor progress, bottlenecks and key challenges in different projects.
Challenges with physical dashboard (whiteboard)
A physical whiteboard with limited space can limit the information that can be captured and highlighted to the team.
It does not have any reference or linkage to the project documents which are actually important.
Whiteboard in office which served as dashboard may or may not reflect the ground level situation. How to make sure that it has captured the most recent information?
So NMS project team explored the possibility of using a web based software to replace the physical whiteboard cum dashboard. At the same time, NMS had a strong emphasis on keeping the user interface as simple as the whiteboard they liked using so much.
Challenges in going for typical project management software
Most traditional project management software packages like – MS Project, Primavera have a decently steep learning curve, which did not appeal NMS team.

Instead, they wanted a software which could be as simple to learn and operate as their whiteboard.

At the same time, the software should also capture and convey critical project roadmap stages and documents on the dashboard.

Essentially, NMS team wanted a software which could adapt to their way of working, so learning and training on a new platform would remain minimal.
Solution by WorkPack
'WorkPack' serves as an integrated project and document management platform for Solar EPC projects. A strong workflow engine is at the heart of WorkPack allowing plenty of flexibility. This flexibility made sure that WorkPack dashboard could adapt to NMS Solar's way of working, instead of them having to learn a new way to work.
WorkPack provided NMS with a platform to perform the following:
Easily monitor 20+ projects running simultaneously from a single dashboard.
Measure project progress from a simple, graphical road map on the dashboard.
Select any project and easily navigate to key documents, drawings from the project roadmap.
Upload and manage key documents/drawings, photographs, challans etc. against relevant project milestones.
Manage project BOQ and procurement progress for key items.
Provide complete accessibility and visibility of the central project database to users on project sites, using the WorkPack mobile app.
Although the easy user interface and workflows need minimal formal training, WorkPack trainer spent 2 days in NMS office to handhold the team through the roll out.
"WorkPack has centralized many of our processes – such as, sales tracking, marketing, project execution – which were earlier done through whitboards/excel sheets. We recommend WorkPack for all EPC players in Solar Industry today."

– Naveen Bandaru, Founder & CEO, NMS Solar
Project Dashboard
Easily monitor multiple ongoing projects with a graphical project roadmap indicator.
These roadmaps are configurable and can vary from project to projects.
Easy to understand color coding highlights the critical items which need your immediate attention in red.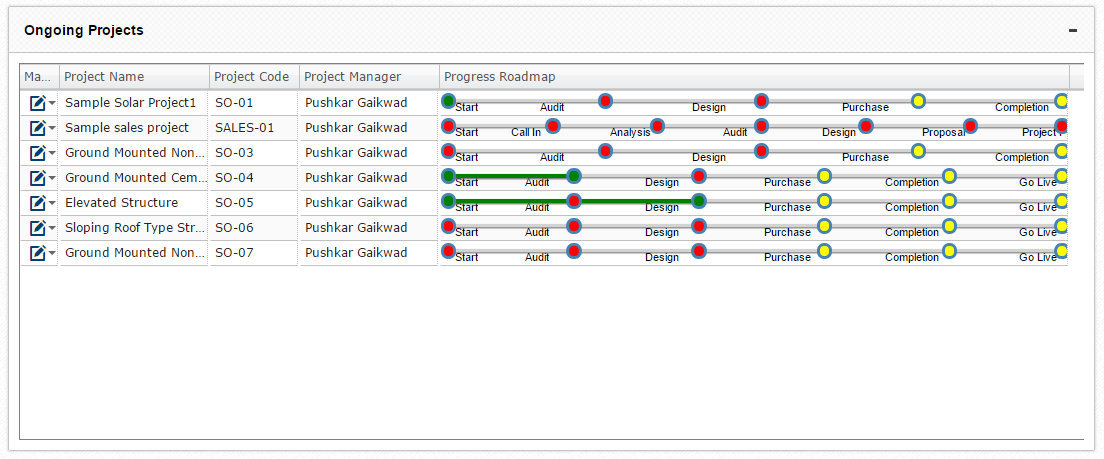 Easy Navigation from WorkPack Dashboard
Click on any pending project milestone to see what is holding back its completion.
Incomplete items are clearly indicated. Click on those to upload corresponding documents, drawings, challans, photographs etc.
Upload & Manage Documents
Technical drawings prepared by engineers are directly sent to construction and projects team from WorkPack.
Engineers who visit the construction/installation site view these drawings directly from mobile or tablet devices.
They frequently use the offline mode in case of low connectivity on site.
Construction team also sends construction progress updates from their mobile apps.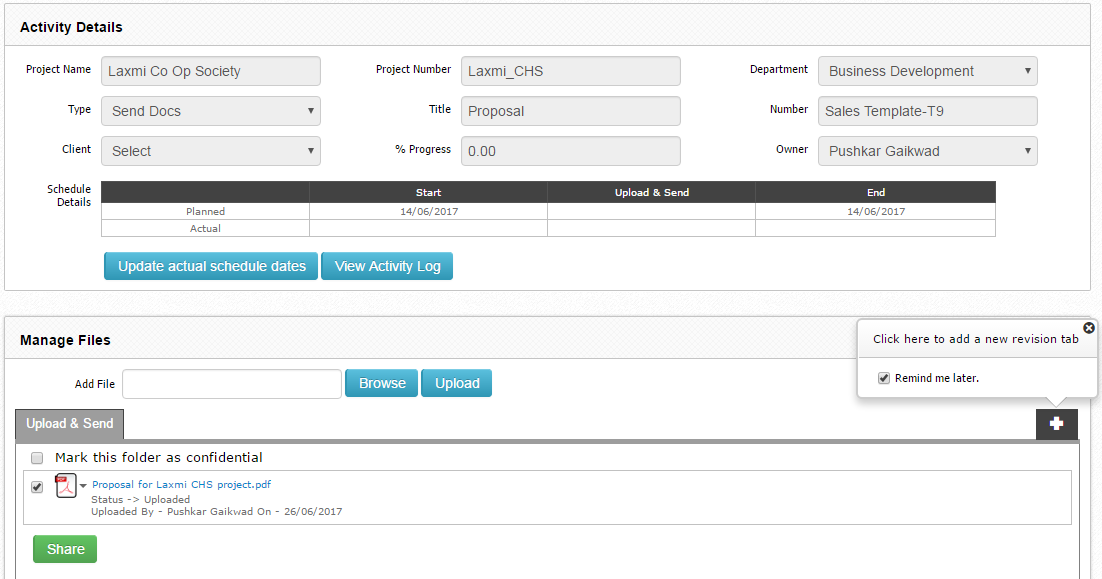 Mobile App
Tasks and activities of a project are assigned to different members of the project team from WorkPack.

Further follow-up with these task owners is automated and they receive notifications and alerts as per the project schedule for tasks assigned to them.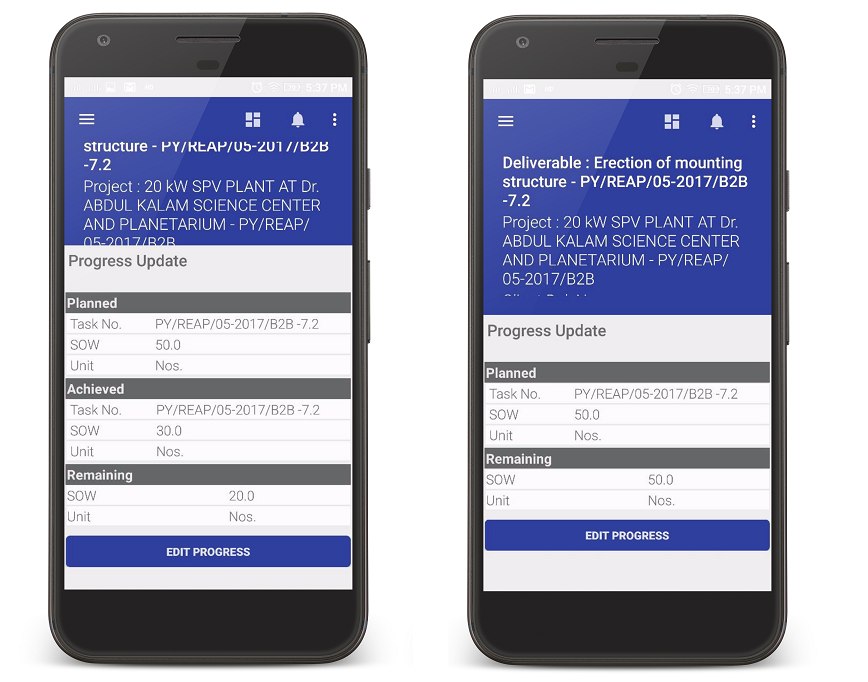 Results for NMS Solar
NMS Solar team has successfully utilized WorkPack to –
Monitor key project milestones, documents and data from a central online dashboard
Easily identify critical and pending project milestones that demand immediate attention
Quickly find most recent versions of documents and drawings from WorkPack dashboard
Connect site engineers with project database using mobile app
Manage documents, drawings, photographs, challans etc. on a central repository.