Earned value for a project represents the actual work that has been done so far against the overall planned work to be done. Earned Value Management has been an important facet of project management for years. Project managers have used earned value to gauge the overall progress of projects. Tracking actual progress of a project is an important part of Earned Value Management, as the earned value is a direct reflection of the actual progress.
How you can track the actual progress of different project activities, highly depends on the nature of those activities. Engineering or design work is basically production of engineering drawings, design specifications, bill of materials, datasheets and design models. To measure the progress of engineering work, you need to measure the progress of documents and drawings produced.
Master Document Register (MDR)
Normally the scope of work for an engineering design project is the list of documents and drawings to be produced. Commonly referred to by either one of the following terms –
Master Document List

Master Deliverable List

Master Document/Deliverable Register
Usually before starting the project, engineering team lists down the documents and drawings that are expected to be produced during the course of the project. However, this list is flexible and scope of work may increase or decrease during the course of the project, as the design matures.
Project managers can then use this list as a benchmark for measuring the actual progress achieved on a project against what is expected or planned scope of work.
Project progress as weighted average
Clearly, the number of documents and drawings produced in a project is an indicator of the actual work done. However it is not a direct indicator, as some drawings may require a lot more work than others.
Hence it is a good idea to have weights assigned to each document/drawing. The task weights can be proportionate to the amount of work that goes into producing that particular document/drawing. Usually manhours spent on producing a document is an effective parameter to be used as progress measurement weights. These weights will then be used to measure the overall project progress as a weighted average of progress values for all individual documents and drawings.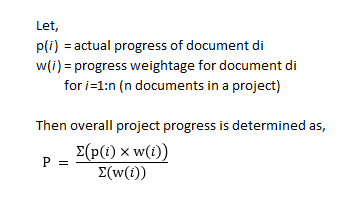 This weighted average represents actual progress or work achieved in an engineering project. The weighted average can be in terms of % progress or in terms of manhours, depending on how the progress on individual documents is measured. Note that weights can be anything, as their units cancel out in the end anyway.
Measuring actual progress with document management
Once you have the actual progress numbers for individual document/drawing items, calculation of actual project progress is just basic math. But it is the measurement of actual progress at document level that needs serious attention and efforts from the project managers.
There are several tools available for tracking actual progress of engineering & construction projects. But the best-suited tool for tracking documents and drawings is a Document Management System. So all the project document and drawing files that are uploaded, reviewed and approved, can be tracked and progress can be reported accordingly.
Document review and approval
The production of engineering drawings is usually a multi-step process, where the CAD drawings and design documents undergo multiple steps of review and approval. If the project involves multiple teams from different disciplines, then drawings from each discipline should be reviewed and approved by all other discipline teams. Finally project managers should also review and approve the drawings cleared from the multidisciplinary review.
Since this is usually a complex process, it is a good idea to track the status of documents and drawings as they go through this review-approval process. Project managers can also assign progress weights to the approvals given by different stakeholders in the workflow. For example, an approval from engineering manager can mean 40% progress and approval from project manager will signal 80% progress of a document. Finally the 'Good For Construction' copy of the drawing will mean 100% progress and completion of that particular drawing.
Project based workflows
Review and approval process for engineering drawings can be project specific. So it can change from project to project. You can also have different approval processes for different types of documents and drawings.
So ideally you should have a way to capture multiple review and approval processes within the document management system that you are using to tracking the actual earned value. A workflow engine integrated with your document management system can certainly help to configure multiple such review and approval workflows.
Engineering Drawing Management System (DMS) in WorkPack has helped many engineering project managers to track and measure the earned value of their projects by combining a workflow engine with the DMS.
Putting it all together
To sum it all up, follow these steps to track the earned value for engineering projects –
Get your team to work with a Document Management System (DMS) for engineering drawings.
Configure review and approval workflows within your DMS
Upload your Master Document Register or MDR to the DMS
Assign weights for different document/drawing line items. These can correspond to amount of work required and complexity of each item.
Measure the progress of individual documents and drawings as they move through the review and approval workflow (configured in step2).
Calculate the earned value of engineering project as the weighted average of progress numbers for individual documents and drawings.