Engineering & Construction projects are usually quite complex in nature. Any project is generally executed in following steps –
Engineering Design – to produce engineering drawings and BOM

Material Procurement – based on drawings, datasheets and BOM

Logistics – purchased material is brought to the construction site

Construction – is done based on the engineering drawings, using the material at site

Commissioning – built facilities are started and handed over to owner
Such a project consists of very different nature of activities at different stages. For example, managing engineering drawings is very different from managing logistics and storage of steel sheets.
But a project manager needs to manage all these different activities and track them against the project schedule and budget.
Moreover, the quantum of work is also quite high for bigger projects. For example, the scope of work for building a single processing unit within a refinery consists of thousands of activities that are very different from each other.
Tracking thousands of such complex activities manually in an Excel sheet can be a nightmare.
Instead, you can use a project management software to automate the progress tracking completely or at least partially.
But even using a sophisticated project management solution requires some investment in terms of software costs, hosting expenses (servers and computers), training etc.
How do you justify these investments in terms of the value that you can get back from a software?
Cost savings by reduced manual efforts
Project Management Office (PMO) is generally responsible for making sure that an engineering & construction project is executed within budget and as per planned schedule. Project managers and engineers, need to continuously track the engineering, procurement, logistics and construction activities to ensure they are moving forward as planned.
But the actual work in an infrastructure project is done in different disconnected pockets. Hence it is very difficult for a project manager to view it all from a central point.
For example –
All the engineering design work is done in terms of engineering CAD drawings and models stored on a shared drive.
The material procurement process is captured in various emails and communication with vendors, represented by documents such as – RFP, Proposals, Purchase Orders etc.
Actual construction done on site is usually tracked in Excel sheets in the site office.
So the PMO team needs to continuously keep track of the shared drive, emails, spreadsheets, documents and needs to continuously seek progress updates from engineers, buyers, site supervisors etc.
This would be a huge manual effort for a complex industrial project, requiring thousands of manhours of the PMO team.
Moreover, your project team will end up spend bulk of their time on reporting activities than doing the actual work.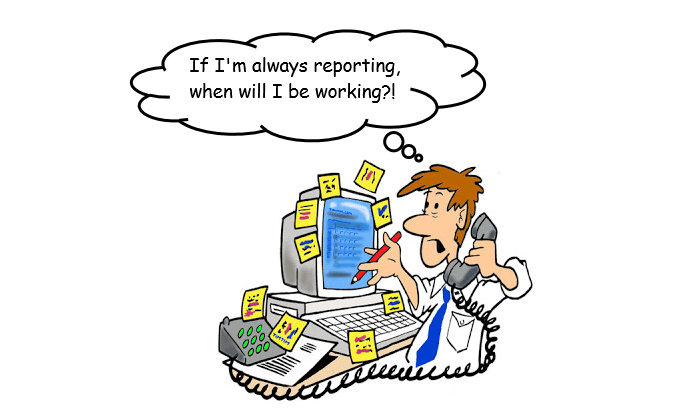 Instead, consider a software solution which can digitally track the files in shared drive, project related emails, documents, spreadsheets. If all these are electronically tracked and summarized as progress reports, those thousands of PMO manhours get saved, contributing to return on investment (ROI) for such a software platform.
Opportunity costs of not using a software
On the other hand, if you consider the opportunity of cost of NOT using an extensive project management platform, you have to account for losses that may arise out of completely manual project management and tracking.
Opportunity costs of project delay
In absence of a progress tracking software that is well integrated with your – documents, files, spreadsheets, emails etc. it is very difficult to regularly monitor how project work is moving.
Consequently, the PMO doesn't have good visibility of where the project is headed. It's like driving on a foggy night, you need to go slow since the road is not clearly visible.
This way you are more than likely to miss the planned project completion date. That delay can cost you in several ways.
There can be direct penalties associated with the delayed completion as per the contract.

Even otherwise when a construction project is delayed, construction team stays longer on the site, adding to the labor costs.

Late completion and commissioning of a project has opportunity costs of its own. Consider delayed start of a train service, due to delayed track completion. All the revenues missed during the delay are counted as opportunity cost.
But possibility of such delays can be significantly lowered by seeking help from a software to give you improved visibility of how your project is moving.
Opportunity costs of miscommunication & rework
Engineering & Construction projects are executed by multiple teams – design, procurement, logistics, stores, PMO, construction etc.
Their work is highly interconnected and dependent on each other. For example, procurement and construction teams are completely dependent on engineering drawings and models created by the design team.
Strong communication is absolutely necessary for all these teams to work together. Most of this communication happens via various documents and drawings. For example – engineering drawings, layouts, Purchase Orders, BOM etc.
Any mismanagement of these documents or any gaps in communication create room for error. For example, whenever a site layout is updated the latest version needs to immediately go to the construction manager. If that fails, construction work may take place with previous versions which have been superseded. This is a typical recipe for rework on site.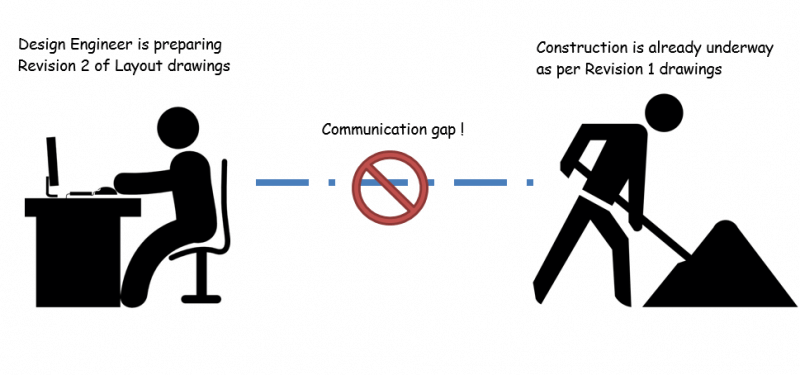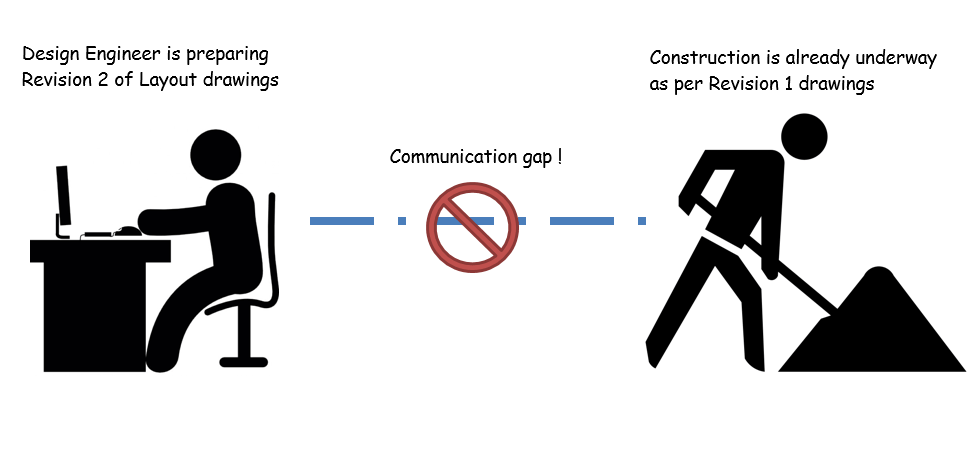 In absence of a common platform for project based communication, there is risk of miscommunication and rework.
Cost of this potential rework is the opportunity cost of not using a well-connected project management and communication platform.
Opportunity costs of data loss
It is very clear now that various documents and drawings are very important for smooth execution of an engineering and construction project.
Imagine not being able to find any of the – documents (PO, Contracts etc.), drawings or spreadsheets (for example – cost control sheet).
It will immediately stall at least some of the project activities. This lost time is a cost to the project.
A software solution which can digitally connect documents, spreadsheets and emails, can also create digital back-up of the same and make it easily searchable.
But in absence of such a tool, data loss can add to the project costs. And that is also opportunity cost of not using a project management platform.
Opportunity costs of budget overrun
By definition, budget overrun means additional project costs.
When PMO doesn't have proper visibility of the cumulative project costs against the budget, it leaves room for lapses in the cost control process. Ultimately this results in exceeding the budget.
The added costs represent the opportunity cost of not having a project cost tracking solution integrated with your ERP or accounting software.
Overall return on investment (ROI)
So a project management system can add value in terms of cost savings and negated opportunity costs. Add them all together to determine the total value returned by the software, per year.
Your investment in the software is determined on the other hand, by adding together costs for, software, hardware, training, time spent etc.
The ratio of these two entities will represent the overall ROI. But be careful to not compare apples with oranges.
So if your investment is calculated on annual (per year) basis, you should also calculate the software value in same terms.
Or if you are considering lifetime costs of the software, compare them with lifetime value.
Return on Investment for WorkPack
WorkPack is a fully integrated project management platform that connects – project schedule, emails, spreadsheets and document storage on one central platform.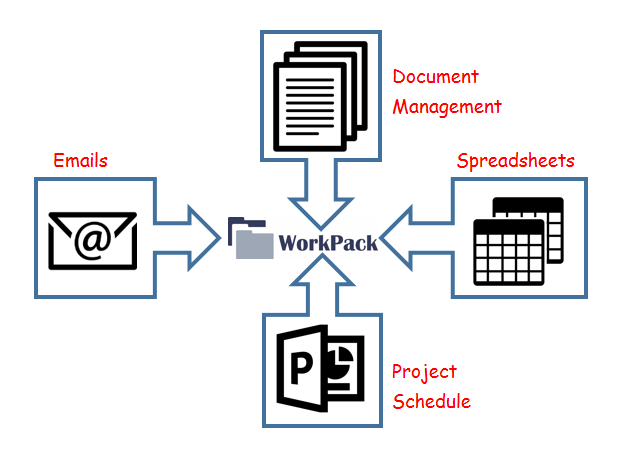 As we have already seem, those are the most critical components of tracking project progress. Having them on a single platform, is making it easier for project managers across different industries to track and manage their engineering and construction work.
And since WorkPack is able to connect ALL the important pieces of the puzzle together, it doesn't leave any room for any kinds of opportunity costs or lost value.
In other words, WorkPack will ensure the maximum ROI that you can have for a project management platform.
But you don't have to take our word for it. Find out for yourself what WorkPack can do by setting up a free account for your team.
Let us know in case you need any help or if you would like to schedule an online demo for your PMO team.