Solaron Homes Pvt. Ltd. is a renewable energy company founded by Mr. Harpreet Singh Tibb – an alumnus of BITS Pilani, IIM Kolkata and Cambridge.  Prior to Solaron Homes, Harpreet had 19 years of rich experience working leadership roles at Hindustan Unilever Limited and Kelloggs India Pvt. Ltd. Harpreet's passion for "doing well by doing good to society" led to him joining the solar revolution in India.

Harpreet and his team of experts are focusing on residential rooftop solar market. They develop and manage all processes for solar rooftop installation like regulatory paperwork, permissions, financing, designing, installing and regular maintenance.
With their primary focus on residential solar rooftop markets, Solaron Homes is essentially a consumer facing company. They have a broad funnel for sales and they execute multiple small scale rooftop solar installation projects simultaneously, in different cities around India.
In this consumer facing sales process, Solaron's sales team received a lot of documents, site photos and data from each lead. They relied on emails and WhatsApp to share all these files and data with the projects team based in the office. Both teams were eventually struggling to keep track of all these documents and data.
Challenges & Expectations
Consumer-facing sales team from Solaron Homes was working on a high number of leads. They wanted a platform where they could easily track the status, progress and important documentation for each lead.

Sales team spent a bulk of their time in the field talking to customers, collecting electricity bills, site photos etc. They needed a reliable mobile app to share all these files with the project team based in the office.

Additionally, they needed a central platform for storage and easy retrieval of all these documents and photos. Sometimes they used WhatsApp, but it did not serve well as a central platform for easy retrieval in future.

Projects team worked on multiple projects running in parallel at different locations. They wanted a visual dashboard to easily track the status of each project and identify bottlenecks with color coding.

Harpreet has envisioned a standard 7 step execution process for all their rooftop solar projects. He was interested in implementing the same process on an online platform, which could be followed for all rooftop projects at Solaron Homes.
So the team at Solaron Homes evaluated WorkPack to serve as a common platform for tracking sales and project execution, standardization, as well as a central repository for all their project related documents and data.
Solution
'WorkPack' serves as an integrated project and document management platform for Solar EPC projects. A strong workflow engine is at the heart of WorkPack allowing plenty of flexibility. This flexibility was leveraged to digitalize Solaron's 7 step project execution.
WorkPack provided Solaron Homes with a platform to perform the following:
Monitor all ongoing sales activities from a single central dashboard.

Measure progress for different ongoing projects from a visual dashboard, with easy to understand graphical progress indicators.

Upload customer documents & site photos from WorkPack mobile app and easily share with the rest of the team during sales.

Easily retrieve all sales and project files anytime from WorkPack's desktop app or using the web version of WorkPack.

Provide complete accessibility and visibility of the central project database to users on project sites, using the WorkPack mobile app.

Standardize the project execution with their 7 step process configured as a project template within WorkPack.
"WorkPack is now a central platform for us where every project team member can share documents and the same information is easily available to everyone across different functions. Communication has become easier."

                      – Mr. Harpreet Singh Tibb, Founder – Solaron Homes
Project Dashboard
Solaron team uses WorkPack dashboard to monitor all their ongoing sales and project activities from the same screen.
Sales and project teams use standard predefined templates.
Visual dashboard quickly tells you the status of any project or sales opportunity. Color coding is easy to understand and highlights all critical items in red.

Easy Navigation from Dashboard
WorkPack users can click on any pending project milestone to see what is holding back its completion.
Incomplete items are clearly indicated. Click on those to upload corresponding documents, drawings, challans, photographs etc.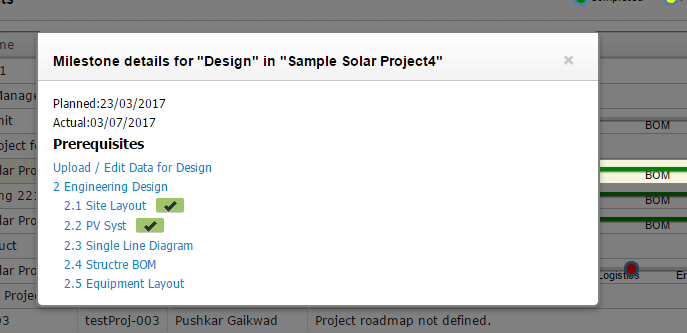 Mobile App
Sales team uses the WorkPack mobile app to share customer information, electricity bills and site photos with the project team in real time from the field.
Project execution team uses the WorkPack app to regularly send progress updates and photos of installation to the office.
This has helped the team to get connected in a better way and minimize communication gaps.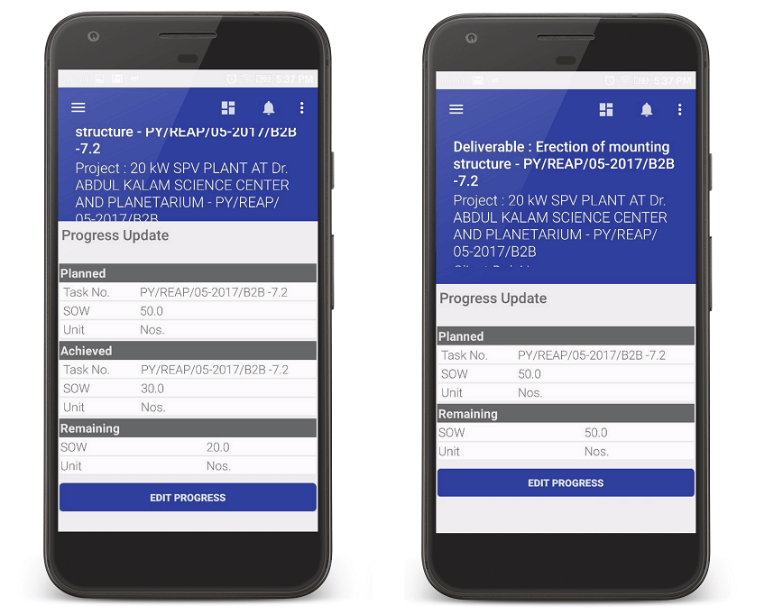 Upload & Manage Documents
Drawings and documents created by engineers are saved in the WorkPack desktop app. These files are synced online with all other team members. During the site visit, engineers can view these drawings directly from mobile or tablet devices.
On the other hand documents and photos uploaded from the field via mobile app become easy to search and retrieve from the desktop app.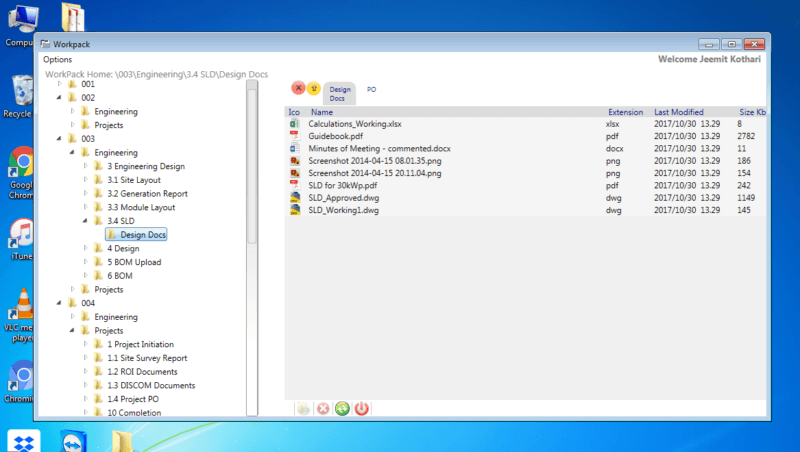 Results
Solaron Homes team has successfully utilized WorkPack to –
Monitor all sales opportunities and ongoing projects from a single central dashboard

Connect sales, design and project execution team on a unified platform

Facilitate easy sharing of documents with mobile app

Easy back-up and retrieval of documents and data with the desktop app

Standardize project execution with their 7 step process.