Why excel?
Because of its ease of use and flexibility, Excel spreadsheets seem to have become the most preferred tools for tracking different kinds of numbers and data.
When thinking of project cost control, different kinds of numbers need to be considered –
Budget for each item

Unit prices

Budgeted quantities

Actual quantities, actual unit prices

Taxes

Billed amounts
Spreadsheets are ideal for tracking and displaying all these numbers to present a comprehensive picture.
So here is a simplified cost control excel sheet template for construction projects.
DOWNLOAD COST CONTROL TEMPLATE
Our consultants at WorkPack have helped construction project managers from different industries to streamline construction progress tracking and cost control.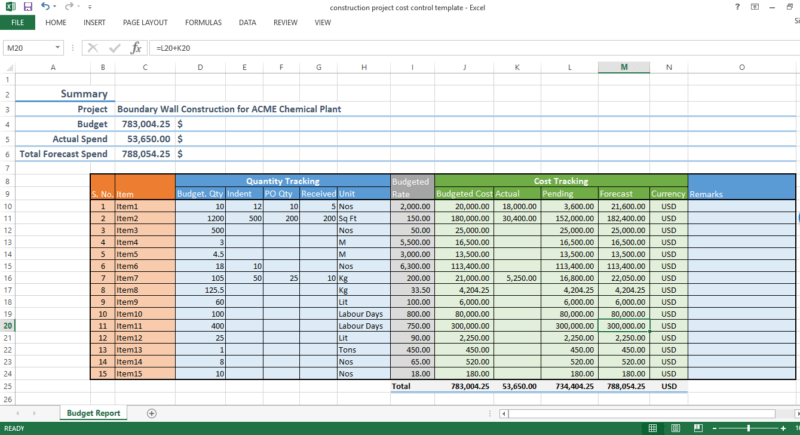 This excel template is based on the best practices followed by industry leaders.
How to use excel template for project cost control?
The excel sheet is already populated with some sample data. It represents a cost control sheet for an imaginary construction project.
Several items are listed on the sheet with details of their budgeted quantities, unit price and budgeted costs.
Additionally, there are separate sections for "Quantity Tracking" and "Cost Tracking"
Quantity Tracking
Material items, machinery and labor services need to be provisioned for any construction project. Together, these items represent all the costs of a project.
So it is important to track the budgeted quantities of these different items against the actually purchased quantities.
So the quantity tracking section helps you to track the budgeted quantity against –
Indent (or purchase requisition)

PO (purchase order quantity)

Quantity received on site or store
Cost Tracking
Cost tracking section gets down to the actual cost numbers. Budgeted cost is simply the multiplication of budgeted quantity with unit prices anticipated in the budget.
Further, the actual cost is the amount from actual purchase order – considering actual purchase quantity, final unit price and applicable taxes.
Next, the pending costs for that same line item are calculated based on, quantities remaining to be purchased (budgeted – PO quantity) and actual unit prices from POs that have been already placed.
Add the "Actual Costs" to "Pending Costs" and you will get the total forecast costs that you are much likely to end up with.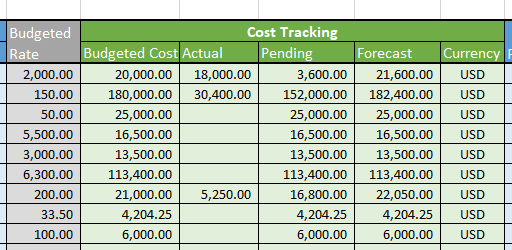 Maintaining this cost data
Once you download this template, you can further customize it for your own use.
But usually, the main challenge is getting the latest data in this sheet. Since the actual procurement and ordering is done with some other tools (ERP, Accounting Software etc.), someone from your team will need to spend a lot of time and effort to get that data and manually update in this sheet.
Since it needs to be done manually, it doesn't get updated very often. Then the whole purpose of having this sheet will be defeated if you can't see the latest cost numbers there.
It is possible to overcome this challenge by directly connecting your procurement process with this spreadsheet.
That's where WorkPack can help you. WorkPack platform integrates all purchase documents, purchase related emails, tracking spreadsheets and project schedule.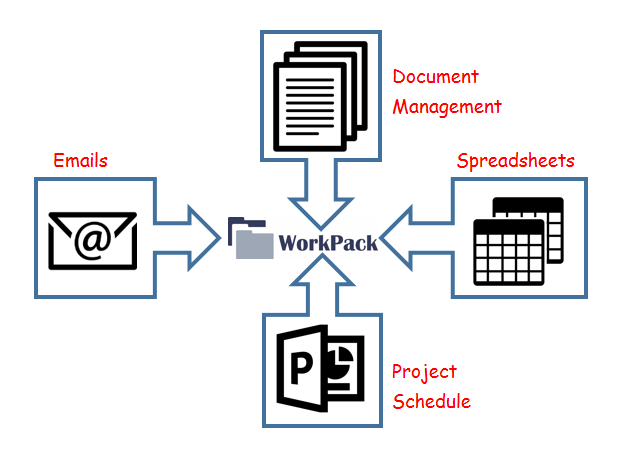 So your purchase team can email the purchase orders to vendors as they normally do. WorkPack will track this purchase data and present it in the spreadsheet format that you have already downloaded.
That is how WorkPack will automate the messy cost control operations for your team.
We have already helped a number of project and construction managers from different industries.
Can your team benefit from WorkPack as well? Find out by setting up a free trial account for your team. Let us know if you need any help to do that or if you would like to set up a demo session for your team.