Solar power industry has gained strong momentum in the recent years. After a boom in utility scale solar power projects, now the rooftop solar installers are making our energy basket greener and greener.
The new breed of project managers, driving these rooftop solar projects are quickly learning the specific problems of this industry. These solar specific challenges need solar specific answers.
Multiple Simultaneous Projects
Rooftop solar contractors are involved in executing solar panel installations on different types of structures –
Industrial rooftop projects – where a large rooftop area is available on top of a manufacturing / storage facility.

Commercial rooftop projects – where solar panel installation is done on top of a commercial building

Residential rooftop projects – residential bungalows or apartment buildings, where available rooftop area tends to be quite small
Few contractors specialize in any one specific type of rooftop solar projects. But most contractors have a mix of all three types of projects in their portfolios.
Considering the smaller rooftop areas of commercial and residential buildings, the average project size tends to be quite small.
On the other hand it means, that most projects are quite small and can be executed in a few days' time.
As a result, a typical rooftop solar contractor is usually involved in execution of many small projects at a time.
While there is very limited complexity in any single project due to the small scale, monitoring simultaneous execution of many such projects becomes challenging.
There are multiple sites to be monitored. Procurement and material delivery for all of them needs to be tracked. A variety of issues arise in installation and commissioning on different sites. Project manager must maintain real time communication with all I&C teams and answer their challenges.
Collectively, there are a large number of factors to be tracked for all the sites. Without the help of any digital tracking mechanism, things can get quite chaotic quite quickly.
Solution: Central dashboard for all projects
Rooftop solar project managers often ask for a central online dashboard, where they can monitor – engineering design, material procurement, delivery, inventory, installation and commissioning for all their ongoing projects.
Having a dashboard like this makes it easier to keep an eye on a large number of factors that can go wrong and disturb their business.
Fast Tracked Projects
As rooftop solar projects are smaller in size, their timeline is also shorter.
Multiple projects running in parallel also mean that the team cannot afford to be stuck in any project for a long time, or else other projects will also suffer.
Payments from customers are also linked to commissioning and handover of the project. Any project getting stuck can be detrimental to the contractor's cash flow, impacting other ongoing projects as well.
Hence a project manager needs to ensure that things keep moving steadily in each and every project.
He can only do that when he has real time visibility of what is happening in multiple ongoing projects.
Solution: Reporting linked to schedule
A reporting tool directly linked to the scheduled timelines of all ongoing projects is needed as an effective solution for real time tracking of progress.
Scattered Team
There are always multiple stakeholders in any rooftop solar project, like – design engineers, vendors, distributor, I&C team, power distribution companies (for grid connected projects). Work done by each of these stakeholders is critical to the overall progress.
But there are many projects going on at any time, involving multiple stakeholders in each of them. Coordinating with so many stakeholders from in real time is becomes a headache for any project manager.
Solution: Cloud based communication platform
An effective solution to this problem is connecting with all stakeholders on a central communication platform – possibly a cloud based platform.
Disconnected Sites
Rooftop solar projects are executed on rooftops of different kinds of buildings.
There, the installation and commissioning (I&C) team can only access their mobile devices for any communication.
Usually, they send out photographs, progress updates or installation issues etc. using emails or messaging apps. But over time, that ends up in having to keep track of too many messages and emails.
And no one wants that.
Solution: Dedicated mobile app
What they need instead, is a dedicated mobile app meant only for easy sharing and tracking of different kinds of information from site – photographs, progress updates, drawings, issues etc. A dedicated mobile app for this purpose also helps in tagging that information with related project, site location, customer name etc. making it much easier to track for future reference.
Integration
These 4 key challenges in rooftop solar projects can be answered with 4 different tools.
You can choose to use 4 different tools to answer each of them. But that would have limited effect. Because again you would be stuck managing 4 different silos.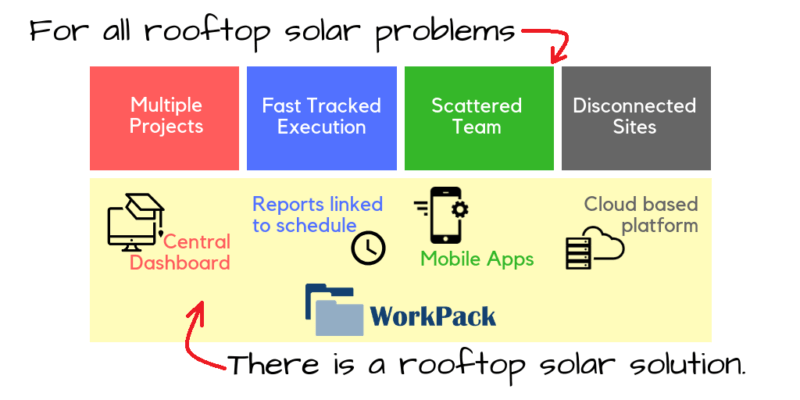 Instead you can try an integrated platform like WorkPack, to
Communicate from site using dedicated mobile app
Centralize communication on WorkPack cloud
Link the updates coming from different sites to project schedules
Monitor the planned Vs actual progress of all ongoing projects on a central dashboard
WorkPack has already helped many rooftop solar project managers. Can your team benefit as well?
Find out by setting up a free trial account for your project.