Commonly, a construction project manager is responsible for a number of different things. Cost control is always one of the most important of those responsibilities, if not the most important.
In the context of infrastructure construction projects, cost control involves –
Cost Estimation > Procurement of material & services > Track usage of materials & services > Consolidated reporting & monitoring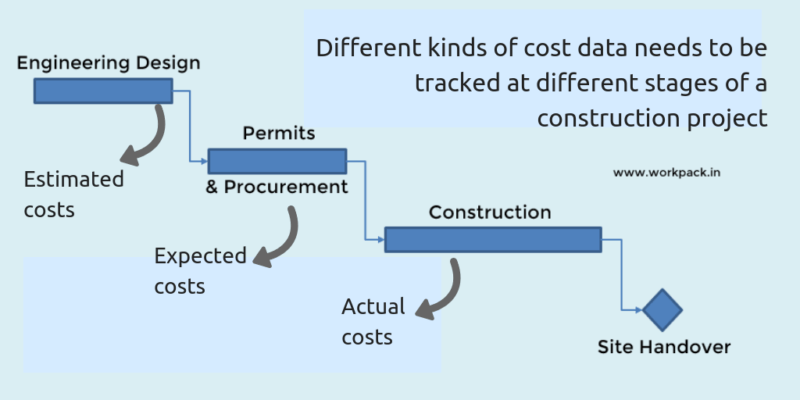 In the simplest words –
Cost control requires that actual costs do not exceed the budgeted costs at the beginning of the project.
This is the larger goal on the project level. But ensuring that project budget does not get overrun, requires that costs must be monitored at individual activity levels.
That is because in case of any excess costs, a project manager must quickly find out the reason for those excess costs to bring them under control. But he can know the reason and source of excess costs only when costs are monitored of all individual project activities.
When each and every activity is monitored in terms of budgeted Vs actual costs, project manager will find out the excess costs right away. And before the problem spreads to other activities and gets magnified, he can take a preventive action.
Otherwise if costs were monitored only at the project level, it would be much difficult to drill down to individual activity costs and pinpoint the problem in real time. Moreover in construction projects, if you don't act immediately, the problem can spin out of control.
A construction project manager must monitor the actual costs of all the project activities in near real time, against their budgeted costs.
Cost tracking in the lifecycle of a construction project
Cost estimation at activity level
Before a construction project can even start, the costs for different material items, labor, services and equipment to be used are estimated in a 'Bill of Quantities' (BOQ) spreadsheet.
In a detailed BOQ, costs can be estimated for all individual activities. On the other hand, a high level BOQ provides cost only at area or project levels.
But for effective cost control, actual costs need to be constantly monitored against the estimated costs for all individual activities. This implies that costs must be estimated for individual activities in the BOQ spreadsheet.
Cost tracking on central database
Different activities in a construction project are done by different teams at various stages of the project.
These different stakeholders and teams must track the actual costs of their work and report those numbers to a common central database.
In absence of a central cost control database, different stakeholders do their cost tracking in different spreadsheets or files. Later on, a construction project manager has to put a lot of manual efforts to combine this data into a single consolidated report.
Integration of different work management tools
Project teams use many different tools like – spreadsheets, documents, shared folders, mobile apps, emails etc. to track their work and related costs. Integration of all these tools will allow connecting the actual cost data to a central database.
Digital workflows
Connecting all stakeholders and their devices to a central database will enable tracking of actual cost numbers. But it still does not guarantee REAL TIME tracking of these actual costs.
A person on the project team can complete his work on time, but for a variety of reasons he may report the actual costs for it after a couple of weeks. That causes delayed reporting of actual costs and whenever there are excess costs, those will also be identified after some delay.
For real time tracking, tracking of actual cost numbers MUST be linked to the completion of actual activity itself – as much as possible. This would mean – as soon as an activity is done, its costs get updated in the central cost tracking database.
For this to happen, all the construction activities must be linked together using digital workflows PLUS integration of all the digital tools, like – spreadsheets, emails, folders, mobile apps etc.
The ideal construction cost control system would then look something like this –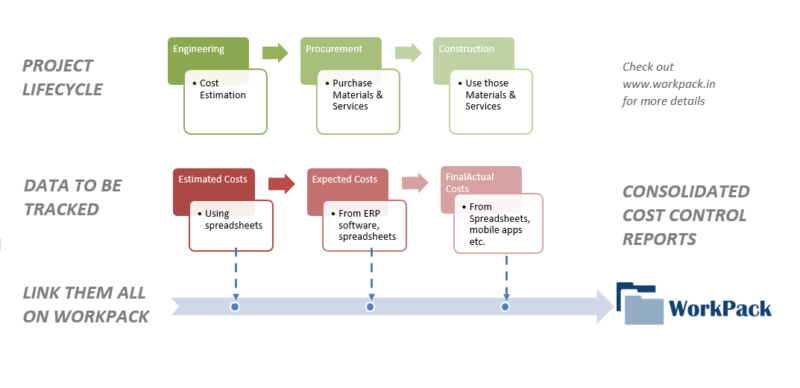 WorkPack for construction cost control
WorkPack is one such tool connecting all your favorite tools on a single central platform and putting them through digital workflows.
That is why many construction project managers have trusted WorkPack for their project cost control.
Do you think WorkPack can help your projects as well? Find out with a free trial. Let us know if you need any help.