Cost control is a very important part of project management.
For an infrastructure project, bulk of the costs come from material purchase and construction labor costs. For an infra project, cost control needs clear visibility of procurement and contracting process.
That is why infrastructure project managers emphasize a lot on having an ERP platform that lets them monitor procurement process and project costs.
But apart from cost control, project progress tracking is the other important aspect of infrastructure project management, that is not covered in typical ERP tool.
Considering this important role of progress tracking, a holistic project management platform appears to be a better choice over ERP software.
Further, ERP packages are not always the most user friendly of solutions. For someone habituated with emails and excel sheets, ERP can present a steep learning curve.
Infra project managers want to gather project cost data from a variety of stakeholders like – buyers, site engineers, store managers etc. And usually ERP software is not accessible to all these users.
Hence, infra project managers often look for a more user friendly cost control solution which is as easy to use as emails and excel sheets.
Integrating cost control tools
So it is worthwhile to consider, what other simple tools are already helping the team to manage their project work and cost data.
Procurement data is structured in standard documents like – PR, PO, GRN, Invoice etc.
These documents are shared and managed using shared folders.
Shared spreadsheets are used to track actual costs against budget.
Different stakeholders juggle this information via emails to each other.
Project schedule outlines the timeline for each activity (PO release, payment etc.)
So connecting all these tools to an intelligent platform, can provide useful insights about actual costs Vs the budget.
Already many project teams are effectively using these tools to track and monitor project costs against a budget.
So why do we need another platform to connect all of these?
Automating the procurement workflow
Procurement tracking and cost control using spreadsheets, emails and shared drives is largely a manual effort.
It takes up a lot of time and effort from a project engineer / project manager to prepare weekly or monthly reports based on the POs raised, invoices received and payments made during that period.
And because it takes a lot of effort, this tracking is not done very frequently. Consequently, there is a lag between when the budget is exceeded and when it is reported.
This delay in reporting critical cost escalations can only be minimized by automating the procurement tracking process using an intelligent digital workflow.
This digital workflow needs to connect procurement related emails, documents, spreadsheets and scheduled milestones in a meaningful sequence – so that the process can be automated and managed by a software.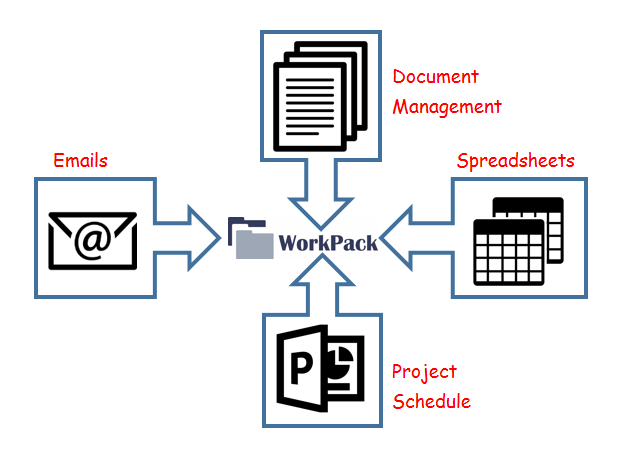 WorkPack's workflow engine
WorkPack is a platform that connects shared document folders, emails, spreadsheets and project schedule on a single platform.
WorkPack's workflow engine can then be used to string the tools in a sequence similar to following example –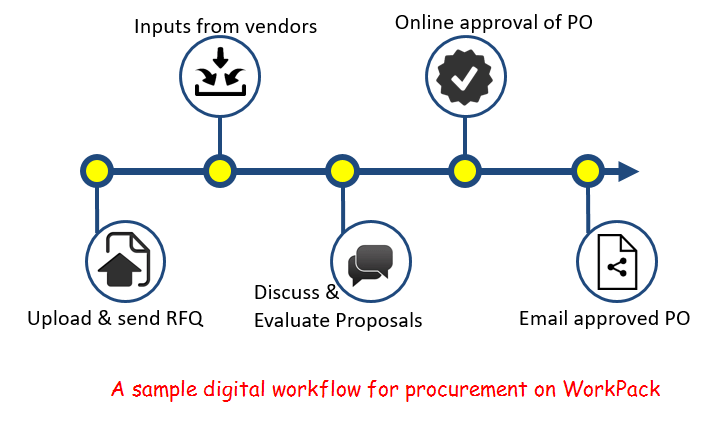 In this example –
Buyer creates RFQ with help of engineers in WorkPack's shared drive on cloud.
Then he emails RFQ to selected vendors. WorkPack tracks this email and details of RFQ.
Vendors also get access to separate WorkPack shared folders where they separately upload their proposals.
Buyers discuss these proposals with design engineers and tabulate their evaluation in WorkPack's shared spreadsheets. Subsequently, a vendor is selected.
Buyer prepares a PO and gets online approval via WorkPack.
Approved PO is emailed to selected vendor and recorded on WorkPack.
Here's another story of how WorkPack's procurement workflow saved an infra project team from a major delay.
Similar or even more elaborate workflows can easily be created using this workflow engine. These can also include steps for material delivery, receipt of invoice, payment, billing to clients etc.
How does it compare with an ERP
While an ERP software also enables similar cost tracking functionality, it has considerably limited flexibility.
Further, each ERP software has its own user interface, resulting in a significant learning curve for the end user.
WorkPack solves both these problems.
It works with the most user friendly tools – like emails, spreadsheets, document folders etc. Even established spreadsheet formats for budgeting and cost tracking are exactly replicated in WorkPack.
Because you can have any sequence and number of steps in the workflow, there is complete flexibility to digitize your actual procurement process.
Since the same process and same tools are used to manage procurement work. Your team can go on working as before, without any major changes or learning curve.
This way, WorkPack has already helped project and procurement managers across different verticals.
Find out if it can help your team as well by setting up a free trial account today.
Let us know if you need any help or talk to one of our consultants to know if this is the right tools for your team.