Construction business is a project intensive business. Each construction project needs to be professionally managed to ensure its successful completion. That is where the practice of 'construction project management' comes into picture.
Lifecycle of a construction project
Construction projects from different industries – real estate, power generation, transportation, chemical, manufacturing etc. – differ from each other in certain aspects. But the basic lifecycle of a construction project remains invariably the same.
It starts with the 'Engineering Design' for the facilities to be built

Next 'Pre Construction' activities such as getting permits, awarding subcontracts etc. are done

Afterwards, 'Material Procurement' can be done based on the approved engineering design

When material is delivered to the site, actual 'Construction' phase starts

Finally 'Handover' of constructed facilities is done to the project owner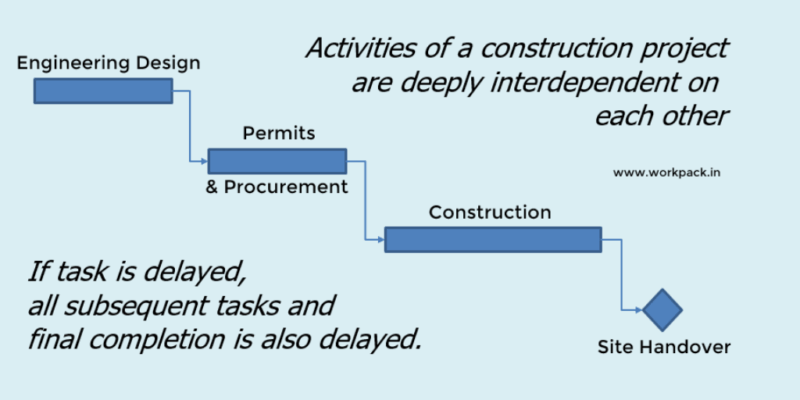 The nature of the project activities changes quite a bit, going from one stage to another. Accordingly, the construction project manager has to take up different responsibilities over the course of the project.
Responsibilities of a construction project manager
A construction project manager is typically tasked with different kinds of responsibilities for the project, as it moves from one phase to another.
The job of a construction manager typically covers many of the following areas –
That is a wide range of areas requiring construction project manager's attention. Still this job can be considerably simplified using some project management methods and tools.
Project management methods for construction
Project planning
For a construction project manager, it is very important to plan for the timelines, cost, resource and material requirements of different project activities.
This planning will determine how the project team prepares for the work ahead of them. Any miscalculation in the initial plan will throw up surprises along the course of the project.
So it is desirable for a project manager to prepare as detailed a plan as possible for all activities. Detailed consideration of timeline, resource and material requirements for any project activity will minimize the chances of a surprise later on.
Commonly, project planning refers to creation of the project schedule. But in case of construction projects, it needs to be extended to cover project costs and resources as well.
Cost control
At the project planning stage, expected project costs are estimated based on the bill of materials (BOM) and other service requirements. These costs are then budgeted for.
As the project moves ahead, it is one of the prime responsibilities of a construction project manager to ensure that the actual costs do not exceed the budgeted amount.
For this, project manager must regularly keep track of the actual costs of all project activities.
The actual costs come from – material purchase, service contracts, miscellaneous expenses on site, labor costs, equipment costs etc. These actual cost numbers must be regularly reported by the project team working on the ground, to the construction project manager.
Project progress tracking
Apart from ensuring project completion within budget, a project manager must also ensure the completion of the project within the planned schedule.
And similar to tracking actual costs on regular basis, actual progress of different activities must be tracked by the project team.
Different project stakeholders record the actual progress of their own work in different formats, for example –
Construction engineers on site maintain a spreadsheet based 'Daily Progress Report' or DPR

Document controllers and the engineering team maintain the list of approved drawings in a 'Master Document Register' or MDR
A construction project manager must gather this data on regular basis and put it together to understand the overall progress of the project.
Quality Management & Safety
Quality management and safety aspects of a construction project are quite similar to each other as they both require developing and establishing standard work procedures for different construction activities.
A construction project manager should establish certain best working practices for his team. These should be developed considering the quality assurance and safety aspects.
Project management tools for construction
Project managers commonly have a number of tools at their disposal to help them manage the project. Some of these tools are be very helpful to a construction project manager.
Gantt chart
Gantt charts are used for creating a project schedule and also to track the actual progress timeline alongside the planned timeline of a project.

BOM
Bill of materials (BOM) captures the actual material requirements for the project, along with budgeted quantities and costs.
Cost Control Spreadsheet
The BOM spreadsheet can be easily extended to a cost control spreadsheet, simply by adding actual material quantities and costs alongside the budgeted numbers.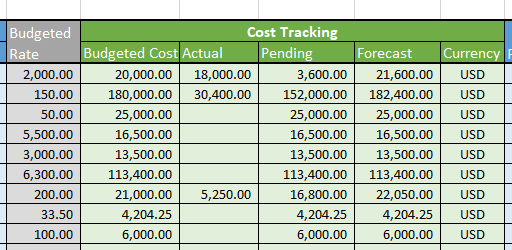 ERP Software
Some project make use of an Enterprise Resource Planning (ERP) software to keep track of costs, material inventory etc.
Progress Tracking Spreadsheets
Different stakeholders of a construction project use custom spreadsheet formats like the – Daily Progress Report (DPR) or Master Document Register (MDR), to track their actual work.
When these spreadsheet numbers are compared with the Gantt chart data, actual progress can be compared to the planned schedule.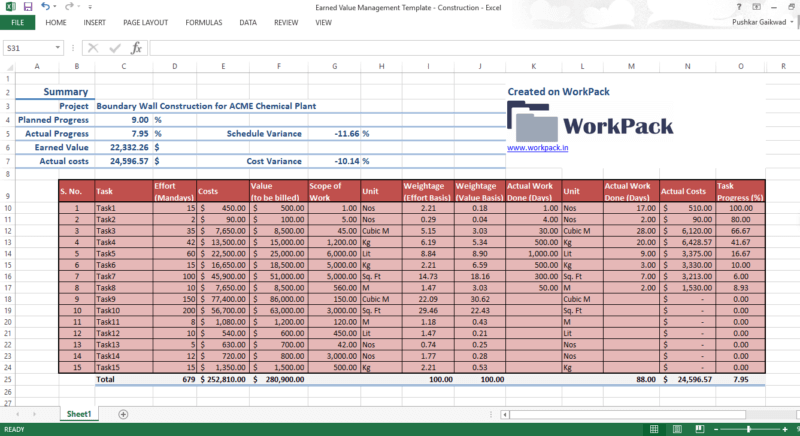 Mobile Apps
Smartphones have made it much easier for a construction engineer on the site to connect with rest of the project team. They can use a myriad of apps for – messaging, sharing documents, photos etc. with the project team.
Mobile apps can also be used for reporting of actual progress on different ongoing activities on the site.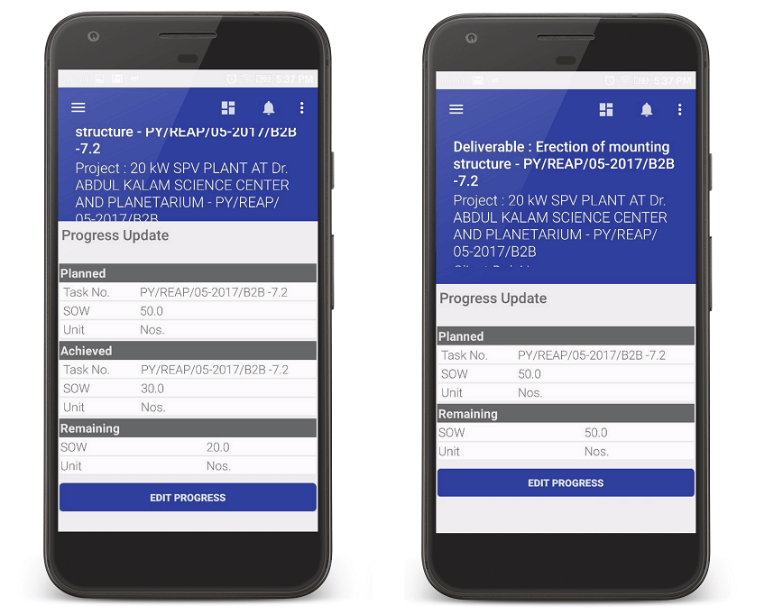 Integration
An online project management platform can be used to connect all these tools and make it easier to monitor construction projects from a central dashboard.
WorkPack is one such platform to integrate all your favorite tools on a single online platform. Having already helped construction project managers from different industries, it can also benefit your team.
If you wonder how it works, set up a free trial account and find out. In case you need any help, let us know.