The RERA regulations introduced by Government of India, are meant for protection of home buyers' interests. RERA demands transparency in sales, execution and costs of residential construction projects.
This transparency for RERA officials is possible only when builders and real estate developers themselves have complete visibility of their own projects.
However that does not seem to be the case presently. Let's see why.
Construction projects are inherently difficult to monitor
Any experienced construction project manager would tell you, there are a few significant challenges in monitoring and controlling their projects in real time.
Scattered Team
By design, construction project teams are geographically scattered to – design team, project office, construction site, stores etc.
It's a challenge to get everyone in the same room to get a complete and accurate understanding of project status.
Moreover, they are working on different electronic devices and tools. For example – site engineers have access to mobile devices (phones and tabs), design engineers spend all of their time on PCs.
Multiple Stakeholders
A variety of stakeholders get involved in any construction project – design engineers, architects, consultants, contractors, sub-contractors, suppliers, auditors etc.
The overall project progress is directly determined by how their work is going. But all of them are working separately, on separate systems.
So how can a project manager track the work done by so many stakeholders?
Disconnected tools
Even when we try to look past these obvious disconnects, the internal connectivity does not look much promising either.
For example – even in a construction contractor's team, people are managing their own work using – emails, excel sheets, shared document folders etc.
These are the most popular digital tools used in any project, precisely because the team loves to use them.
But the problem with these tools is they are not directly connected to each other.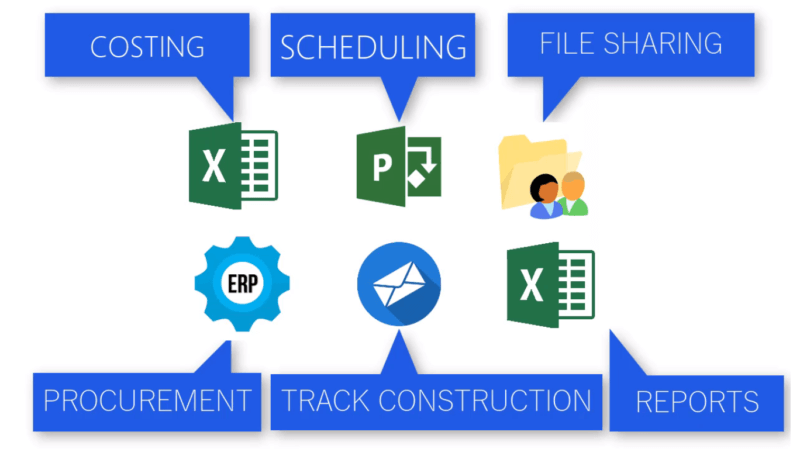 Eventually, a project manager has to go through all these spreadsheets and emails to connect the dots, and then update the same in project schedule.
But this manual data transfer is time consuming and doesn't get done very frequently.
Lack of connectivity creates blind spots
So it's safe to say that most construction projects are disconnected in three crucial aspects –
Disconnected team & devices

Multiple stakeholders

Disconnected tools
This lack of connectivity creates blind spots for the project manager.
Any potential delays or cost escalations can easily hide in these blind spots.
These problems remain hidden until they are too small to be noticed.
But when they are noticed, they have already become more serious and caused some damage.
Does that sound familiar?
Getting rid of the blind spots
The only way to remove these blind spots is by connecting all important elements of your project on one single platform.
Connecting the team
Geographically separate teams can be connected using a technology platform which can work across different devices – PCs, mobile phones and web browsers.
Connecting stakeholders
Different stakeholders of a project need to connect with each other on a single online platform. A cloud server is the best suite solution for this.
Connecting the tools
Sometimes project managers do ask their team to use some online project management software for a project.
But often there is resistance from the rest of the team. The reason being, they don't want to move away from tools that they have used and loved for long – emails, spreadsheets and shared document folders.
Rather, they want the project management software to come to these tools and connect with them.
Integrating these regularly used tools with the project schedule will mean effortless and frictionless tracking of actual work done by the project team.
WorkPack for construction project tracking
In a nutshell, your control over a project can be drastically improved by connecting all of the following on a single platform –
Cloud server

Emails

Spreadsheets

Project schedule
If you are wondering how to go about this integration, rest assured that we have got you covered.
WorkPack is a project and document management platform that comes integrated with all your favorite tools.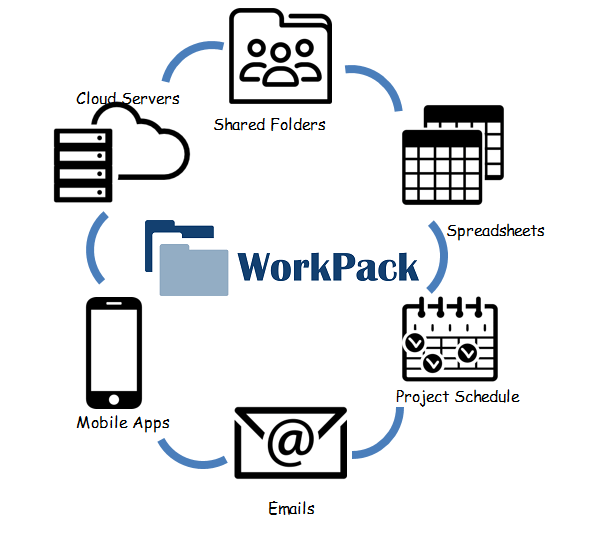 WorkPack has already helped project managers and construction managers from different industries to streamline their project controls.
Can your team benefit as well?
Find out by setting up a free trial account for your team.
Let us know if you need any help or if you would like a consulting call to learn how it all works.